SYSPRO ERP is Industry 4.0 Ready
The Complete How-to-Guide to Your Digital Transformation with ERP
As a Mover and Maker in the manufacturing and distribution sectors, you've no doubt heard about Industry 4.0 and Digital Transformation, and how you can capitalize on new opportunities and move your manufacturing business forward. You may have even started planning what you as an executive and your organization should be doing to prepare for this.
But where do you go from here?
This eBook provides you with a practical step-by-step guide on how you can use your ERP to proactively implement various processes and functionality, enabling your organization to reap the benefits of DX.

Get the most valuable information and insights for:

What you want to achieve?
How Ready is your Factory Floor?
What information do you need to be more effective?
Using ERP to go Digital
A Digital Transformation Checklist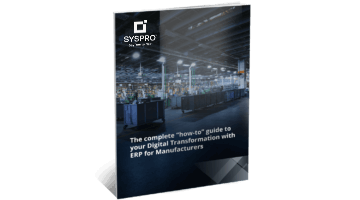 Mabuhay, Contact us today!
Our local sales team member will be in touch for a personalised demo.